Dr Haruhisha HANDA (半田晴久)
Distinguished Professor of IEAS
Dr Haruhisha Handa is an international renowned encyclopedic scholar of outstanding acedemic expertises in multidisciplinary fields and has been the Distinguished Professor of School of Japanese Language and Culture ( renamed School of Oriental Language and Culture now) of Zhejiang Gongshang University since September 2007. Currently, he is the Distinguished Professor at the Japanese Cultural Research Institute of IEAS, which has been designated as an Overseas Japanese Research Institute with Key Support by Japan Foundation since April 2006. He teaches monographic study on East Asian arts and culture to graduate students of IEAS.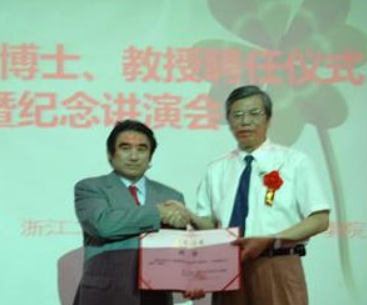 (photo: President Hu Zuguang of Zhejiang Gongshang University presenting certificate of appointment to Distinguished Professor Haruhisha Handa.)
Education
B.A., Economics, Doshisha University
M.A., Vocal Music, Musashino Academia Musicae
Ph.D., Fine Arts, Tsinghua University
Ph.D., Studies of Ancient Chinese Classical Text, Zhejiang University
Visiting Fellowship and External Faculty
Honorary Fellow, School of Oriental and African Studies, University of London
Consulting Professor, History Department, Tsinghua University
Selected Publications
1.Fukami, Toushu. (2000), Secrets of Business Management of Middle and Small-Sized Enterprises (中小企业的经营秘诀).Beijing: Tsinghua University Press.
(深見東州. (2000), 《中小企业的经营秘诀》. 北京: 清华大学出版社.)
2. Handa, Haruhisha. (2007), Art and Market (美術と市場).Tokyo, Tachibana.
(半田晴久. (2007) , 美術と市場. 東京: たちばな. ISBN :9784813320999.)
3. Handa, Haruhisha. (2006), Japanese Monk in Song Dynasty: Focus on Japanese Historical Data Written in Chinese Characters. (Ph.D thesis submitted to Zhejiang University). Beijing : China National Knowledge Infrastructure.
(半田晴久. (2006),《日本入宋僧研究--以日本汉文史料为中心》(浙江大学博士论文). 北京: 中国知识基础设施工程 .)